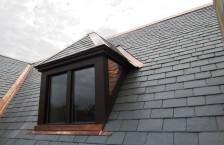 Posted on October 3, 2017 by Chris Gilbert in Company News, Industry Commentary, Uncategorized

The Charles F. Evans Company, Inc.'s slate re-roofing project at Youngstown State University in Ohio has been featured in Roofing. The article features pictures of the new slate roof as well as an in depth interview with 37 year veteran slate roofer, Ken Dennison. You can read the article HERE

Comments Off

on Charles F. Evans Company, Inc. Slate Project Featured

Continue Reading...