OHSA Voluntary Protection Program
Beyond Safety
by Rick Damato
March 10, 2008
Evans Roofing Company Subsidiaries Receive OSHA VPP Award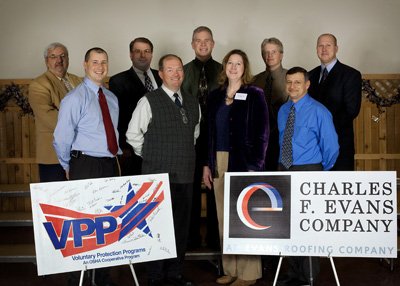 So you think you have a best-in-class safety program at your roofing company? No, you know your safety program is top-notch. You may have a good safety program, and you may even have a great safety program, but the bar has just been raised by the Evans Roofing Company of Elmira, N.Y.
Evans Roofing Company's subsidiary companies, The Charles F. Evans Company Inc. and CFE Inc., have become the first two roofing companies in the nation to receive the prestigious Voluntary Protection Program (VPP) designation from the U.S. Department of Labor Occupational Safety and Health Administration (OSHA). As of Dec. 31, 2007, there were over 1,900 VPP worksites in the United States, but only these two roofing companies were among them. These awards mark not only a first in the roofing industry but a significant achievement that redefines the term "best-in-class" when referring to a safety program in the roof contracting business. The two companies individually completed the significant task of qualifying for VPP Mobile Workforce for Construction Merit award status late in 2007 and were presented with the awards by OSHA officials in ceremonies held in Elmira on Jan. 24-25 this year. The award ceremonies were held in conjunction with the firm's annual "Safety Boot Camp" that involved the entire team from each company. Officials from the Region II and Syracuse Area Office of OSHA as well as a number of elected city, county and state officials attended the luncheon and awards portion of the ceremonies.
The boot camps were seminars aimed primarily at team leaders and mechanics, but were attended by all levels of Evans' staff and management. The boot camp was moderated by Evans Roofing Company Corporate Risk Manager Dave Batrony and included presentations by Evans' Corporate Risk Specialist, Mike Roden, Steve Halliburton of McGriff, Seibels, & Williams of Texas Inc., and Dan Guerra of Innovative Risk Management.
OSHA Compliance Assistance Specialist David D. Heckman also spoke about what it means to be a VPP participant company. Heckman noted that the two Evans companies were the first Mobile Workforce participants in his 24-county district and that they would "set the standard" for future Mobile Workforce VPP applicants. He went on to say, "You guys are going to be the envy of your peers in the roofing industry." He also told the group that OSHA expects growth in the number of firms lining up to apply for the Mobile Workforce program to be explosive. Heckman served as the Team Leader during the VPP application process.
The VPP was awarded to CFE Inc. by OSHA Syracuse Area Director Chris Adams and to The Charles F. Evans Company Inc. by OSHA Region II Director Mike Levy. Adams and Levy both praised Evans' management and employee commitment to the VPP process. Bill Fischer, CEO of Evans Roofing Company, said, "This is a tremendous achievement for our company and a recognition of the continuous commitment to safety displayed by our field forces."
What Is The Voluntary Protection Program?
The VPP was established as a way for firms to distinguish themselves and their work sites with "above and beyond" safety and health programs. In addition to this, the program enables OSHA to form true partnerships with industry in their effort to fulfill the mandate they received from the Congress back in 1970 to "prevent work-related injuries, illnesses, and deaths."
As a way of closing the loop on the partnership, VPP participants are removed from OSHA's list for programmed inspections. VPP participants are still required to comply with the law and are subject, under certain circumstances, to inspection. But for routine inspection and review, VPP status calls for participants to conduct reviews on their own and report the results to OSHA.
Since the beginning, OSHA has had an image problem with much of business — and even labor at times. The VPP initiative has now proven to increase productivity and lower costs for its participants. It has even had dramatic results for companies as they simply prepare to address the application process.
From the beginning, the VPP was geared to be site-specific. In other words, a company may operate dozens of plants, but each plant had to make application and be reviewed individually. This became something of a problem as general contractors would make application to attain VPP status on long-term projects but could not carry the VPP status forward on other, smaller jobs. It also became a complaint of large corporations that they had to start all over for each working facility. The Mobile Workforce VPP Demonstration for Construction has solved the problem for contractors, especially specialty trade subcontractors like roofing contractors. The issue of "corporate" applicants is being addressed with OSHA's Corporate Pilot program.
Getting There
The process to reach VPP status begins with an application. There is no way within the pages of this magazine to outline the entire process, so the information here should be considered anecdotal. Going for VPP status is not for the faint of heart. It begins with complete and total buy-in from ownership and management to the process. Without that, there is no application process. The basic process begins with some paperwork — a lot of paperwork.
To qualify for VPP, applicants must have in place an effective safety and health management system that meets rigorous performance-based criteria. Of course, all relevant OSHA standards must be met (if not exceeded). OSHA verifies qualifications through a comprehensive and exhaustive on-site review process. In the case of the Mobile Workforce Demonstration for Construction program, it also involves jobsite review. A team is formed to conduct the reviews and consists of a team leader, typically a compliance assistance specialist; an industrial hygienist; and volunteers from VPP participant firms. It should be noted that compliance assistance specialists are not enforcement agents for OSHA. Their primary focus is to assist their clients in the area of OSHA compliance, not enforcement of OSHA standards.
Volunteering to assist with VPP reviews is mandated of all VPP participant firms. The key word really is voluntary. A VPP firm may drop from the program at any time without penalty or negative consequence from OSHA. Participants are, however, expected to help other firms along the way toward VPP status and to continuously improve their own safety and health programs.
The Evans Roofing Safety Saga
The Evans companies were founded decades ago, but the beginning of their diehard commitment to safety can be traced back to the hiring of Bob Pringle as the company's first full-time safety manager in 1992. Pringle came to the firm with a great deal of experience in the field of industrial safety and health and was granted wide latitude in developing a safety and health program for the growing company. One of the first things Bob did was to enroll the company as an associate member of the Voluntary Protection Programs Participant's Association. That was when the dream to reach VPP status began.
Over the years, the Evans team did build an enviable safety program and record. Mike Roden and Dave Batrony came aboard to continue the safety department and Pringle moved into sales just a couple of years ago. On his way out the safety department door, he gave Batrony the VPP documents with the challenge, "I think we need to do this." With the rollout of the new Mobile Workforce program available and management buy-in, the team set out on a course to make some history in the roofing industry.
Both Evans' companies have been awarded the VPP Merit status. Under the program there are three basic designations: Demonstration, Merit and Star. The Demonstration status is reserved for individual programs that are designed to meet a specific set of criteria and are approved by OSHA one at a time. The Merit status is awarded to companies that have achieved full VPP status but have some additional hurdles to jump to achieve Star status. Evans will be able to qualify for Star status within a year to 18 months. The specific criteria, which is 90 percent complete, involves expected enhancements in their employee involvement program and testing related to their use of personal protective equipment (PPE) when using certain materials in the application of roofing systems.
The PPE requirements stem from the use of roofing materials on the jobsite. Most manufacturers test their products in laboratory environments, but contractors do not typically install them in such confined spaces. The New York State Department of Labor is assisting Evans with the testing of airborne particulates in a variety of materials applications. This kind of attention to fine details is what sets VPP participants apart from the pack. When the testing is complete, the procedures mandated by Evans' safety policies would be approved and reviewed on the way to Star status.
What's Next?
Being awarded VPP status calls for a celebration, which OSHA provides complete with plaques, a VPP flag, and plenty of dignitaries and media attention. It is really not the end of a journey but the beginning of a new era for safety management and a commitment to continuous process improvement in the area of safety and health.
You cannot begin the process toward VPP status unless you are better than the average in your industry. You cannot maintain VPP status without an ongoing commitment to safety and health in the workplace. Sounds like a lot of work and expense, and it is. The statistics say, however, that VPP work sites are safer and more productive. A win-win if we have ever seen one.
This article appeared in Roofing Contractor Magazine.